Kintsugi:
The Ancient Japanese Aesthetic of Sustainable Upcycling
The Kintsugi Labo JAPAN brings you the sustainable world view that is not "good as new", but "better than new".
Our Kintsugi is a Contemporary Art that reconnects a world that has been divided.
Every Kintsugi tells a story.
The ancient Japanese aesthetic of celebrating the beauty of imperfection and honoring the history of an object is artfully brought to life in the broken pottery.
View all Kintsugi
The Latest Kintsugi News & Updates
Discover the latest Wabi-Sabi beauty
Explore our newest Kintsugi pottery
Embrace Elegance and Imperfection
Kintsugi Tea Bowl Collection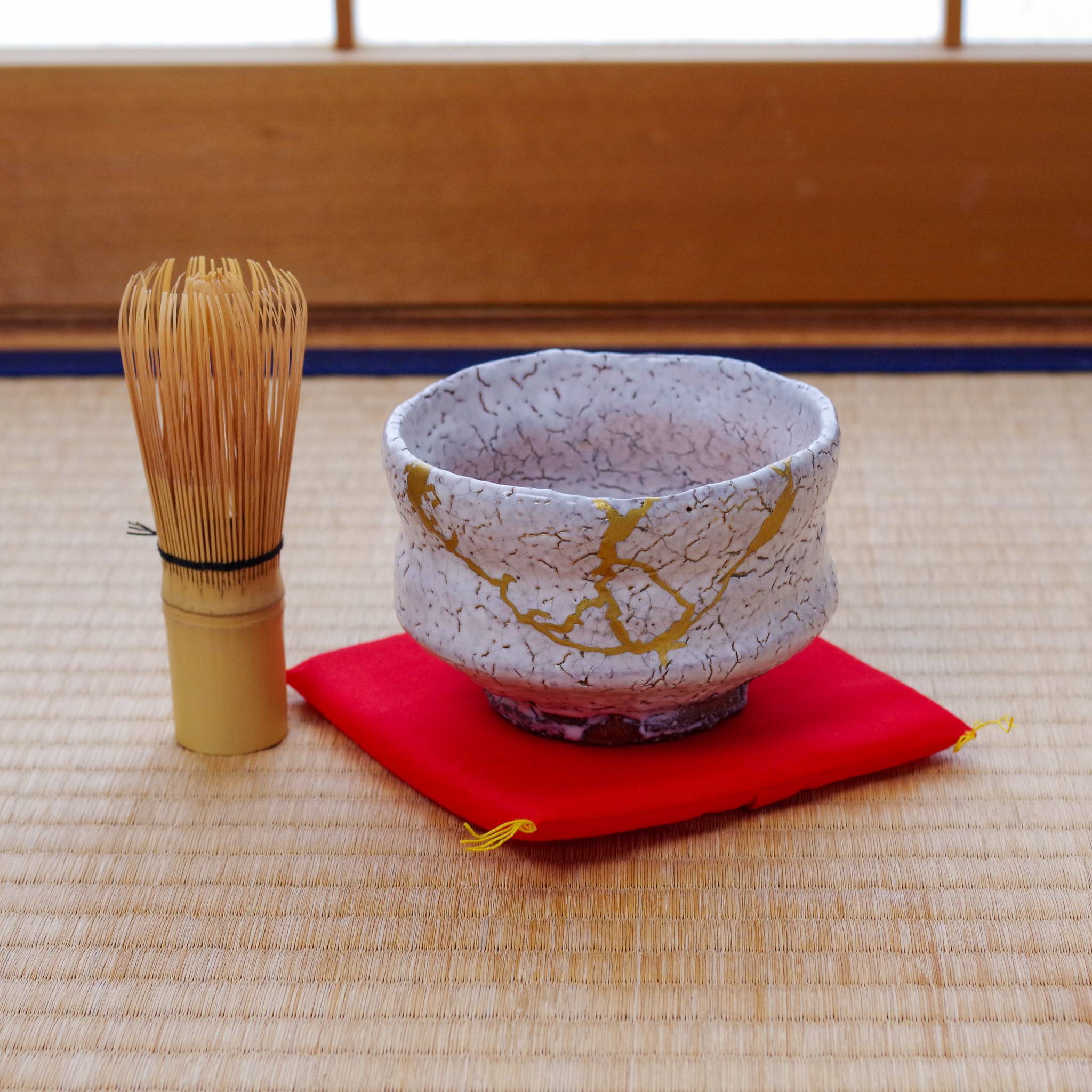 Embrace Ancient Elegance
Step into a world of ancient elegance with our authentic Kintsugi tea bowl collection. Immerse yourself in the rich heritage of Japan while indulging in your favorite teas. Each bowl embodies the timeless beauty of Kintsugi craftsmanship, connecting you to centuries of tradition. Experience the allure of ancient artistry and shop our collection now to add a touch of history to your tea rituals.
View Details
Embrace Timeless Japanese Beauty
What's Kintsugi?
"金継ぎ" Kintsugi is a unique Japanese technique in which broken vessels are repaired using urushi (Japanese lacquer). In Japan, imperfections such as cracks and stains on vessels are considered to create value. The typical way of thinking is that broken vessels must be discarded. However, we believe upcycling gives new life to such vessels and enriches the lives of those who use them. By reviving the spirit of the craftsman, who has poured his or her time into the piece, the vessels can be upcycled rather than being thrown away. This is what modern, sustainable luxury is all about. We hope that you, too, see the beauty in Kintsugi, a practice which conveys the Japanese spirit.
Learn all about Kintsugi
Discover the Kintsugi Maestro
Kintsugi artist
Nobuyasu Suginaka
Meet Nobuyasu Suginaka, a skilled Japanese lacquer artist with over 35 years of experience who is passionate about enhancing the beauty of imperfection. His long cultivated Kintsugi and Maki-e techniques make each piece unique and artistic. Join the journey and discover the timeless, sustainable art of Kintsugi!
Get to Know Us
Where to buy Kintsugi in Japan? It's here!
Visit our kintsugi workshop
Golden testimonials
Kintsugi Reviews
10+ Five Star Reviews Highly Recommended by Satisfied Customer!
Thelma Z. / California, USA
On-site Buyer
★★★★★
A Memorable Kintsugi Journey
Michie, Ken & Yasu were wonderful hosts, offering a memorable Kintsugi experience. Our package from Kintsugi Labo arrived safely, and the completed Kintsugi small plates hold special meaning with the stamped date on the back. The Kintsugi sake cup is a beautiful addition to our collection. Thanks for everything!
June, 2023
Farhad R. / Basel, Switzerland
Enthusiastic Superbuyer
★★★★★
Simplicity Refined
Simple, elegant, uplifting!
June, 2023
Julia K. / California, USA
Verified Buyer
★★★★★
Swift&Stunning!
Fast delivery, high quality, beautiful work, certification included!
March, 2023
Heather C. / California, USA
Verified Buyer
★★★★★
Beauty in Brokenness
The dragon bowl was made even more beautiful through its brokenness as it was expertly re-crafted by The Kintsugi Labo. I couldn't be happier with my beautiful unique piece of pottery.
March, 2023
Farhad R. / Basel, Switzerland
Enthusiastic Superbuyer
★★★★★
Beautiful Kintsugi, Fast delivery & Great business model!
It arrived very quickly and Beautiful Shigaraki ware tea cup , even more beautiful after the repair! Congratulations to Mr Suginaka, and also to Michie and Ken for this way of supporting local artists and businesses!
February, 2023
Casey. F / Texas, USA
On-site Buyer
★★★★★
A trusted and satisfying purchase
Among the many shops selling "Kintsugi like" pieces, The Kintsugi Labo JAPAN is the only one I trusted for authentic Kintsugi. The price range is reasonable considering the superb techniques and value of the original vessels. I'm delighted to have purchased such a beautiful Kintsugi pottery during my stay in Japan.
December, 2022
Lynne. G / Queensland, Australia
Enthusiastic Superbuyer
★★★★★
Stunning Craftsmanship
I purchased 3 Neo Kintsugi serving plates, they are stunning!!! The quality & workmanship is just beautiful. I would highly recommend The Kintsugi Lab to anyone looking for something a little different. Also their customer service is second to none.
November, 2022
Susan K. / Washington, USA
Enthusiastic Superbuyer
★★★★★
A Beautiful Piece with an Inspiring Business Model
My son adores the kintsugi sake cup I bought from you. It's a truly beautiful piece with skillful repairs. The extra gifts and natural box were appreciated. Your website's philosophy and business model enrich our experience. Thank you!
August, 2022
Karen C. / Kentucky, USA
Verified Buyer
★★★★★
Authentic and Meaningful Gift
I purchased a beautiful piece for my stepdaughter - not only is it beautiful and authentic but it comes with a story if it's history and meaning - what an amazing gift!
June, 2022
Jason P. / Massachusetts, USA
Verified Buyer
★★★★★
Beautifully Restored Cup Makes Perfect Gift
I purchased a beautifully restored cup as a gift for my wife. It was well packaged and promptly delivered to her in the US. She loved it!
May, 2022
Taku N. / Texas, USA
Enthusiastic Superbuyer
★★★★★
Elegant and Timeless Kintsugi Tableware
I ordered 3 elegant neo-style rectangular plates and a stunning traditional kintsugi tea bowl. They surpassed my expectations in person and make perfect gifts. The pricing is fair, and the packaging and shipping were remarkable. I'm delighted to have found your studio and look forward to future purchases or visiting in person
April, 2022
Denise, R / Maryland, USA
Verified Buyer
★★★★★
Perfect Wedding Gift and Wonderful Customer Service
I received the perfect gift for my nephews wedding. Thank you so very much !!! I hope I can wait until the wedding to give it to him. You have been an absolute pleasure to correspond with and I look forward to making more purchases in the future. *And the special note from you - beautiful 💕
March, 2022
Doug N. / NSW, Australia
Verified Buyer
★★★★★
Exquisite Kintsugi Sake Cup Set - A Perfect Gift
We purchased the "Unique Kintsugi Meoto Sake Cup set (Gold & Silver)" for our eldest son's birthday and we were extremely pleased with it! We were particularly impressed with how quickly it arrived and how beautifully it was presented. I'm sure our son will love this exquisite and unique gift!
February, 2022
Ryan C. / Utah, USA
Verified Buyer
★★★★★
Beautiful Kintsugi Hagi Vessel, Excellent Service
The Hagi-style vessel is stunning, and Mr. Suginaka's kintsugi repair is museum-worthy. I'm grateful to have found your import business, connecting artisans and appreciative customers like me. I look forward to being a loyal customer and sharing my positive experience with others.
December 2021
Reviving your Treasures
Kintsugi Request
Transform Your Brokenness
Think you have no choice but to throw away your treasured vessel when it breaks? That's when Kintsugi comes in!
Apply here
Eco-Luxe Japanese Treasures
Our Kintsugi Philosophy & initiatives
Be a part of our Sustainable Kintsugi Community
Embrace sustainability and exclusivity with our Kintsugi pieces!
We collect and artfully revive broken Japanese pottery using the traditional Kintsugi technique, saving it from being discarded. Not readily available overseas, these hand-painted or handmade treasures are filled with the spirit of Japanese craftsmanship.
Support our eco-friendly initiative and preserve timeless vessels with every Kintsugi purchase!
our sustainable practices
See Who's Talking About Us
Featured In
News -Kintsugi Month At Pantechnicon
Released on Sep 21st, 2022
Featured on the website of the Embassy of Japan in the UK
Released on Aug 29th, 2022
An online lecture and demonstration about Kintsugi at the event themed ceramics "Ardis2022"
Cracks of gold: How the Japanese art of Kintsugi repairs broken vessels
Published on Jan 17th, 2022